︎ SOS_19 ︎


SOS_19 was the School of Speculation's inaugural summer school. Run from Monday 29th July for 2 weeks, 22 participants developed individual projects based on a speculative design methodology, receiving daily workshops and lectures from practitioners at the cutting edge of design and academia.

Hosted by the Design Museum, The South London Gallery and The Anise Gallery, participants worked at some of London's most critically acclaimed art and design institutions.

Made possible through partnerships with some of London's best loved cultural institutions, the school will offer places at £65, a fraction of the cost of similar university summer courses. SOS also was able to offer 5 fee waivers for those in situations of finnancial hardship. See below for some of our participants work!



SOS_19 Participants performing with The Rodina in the Design Museum. Image courtesy of The Rodina.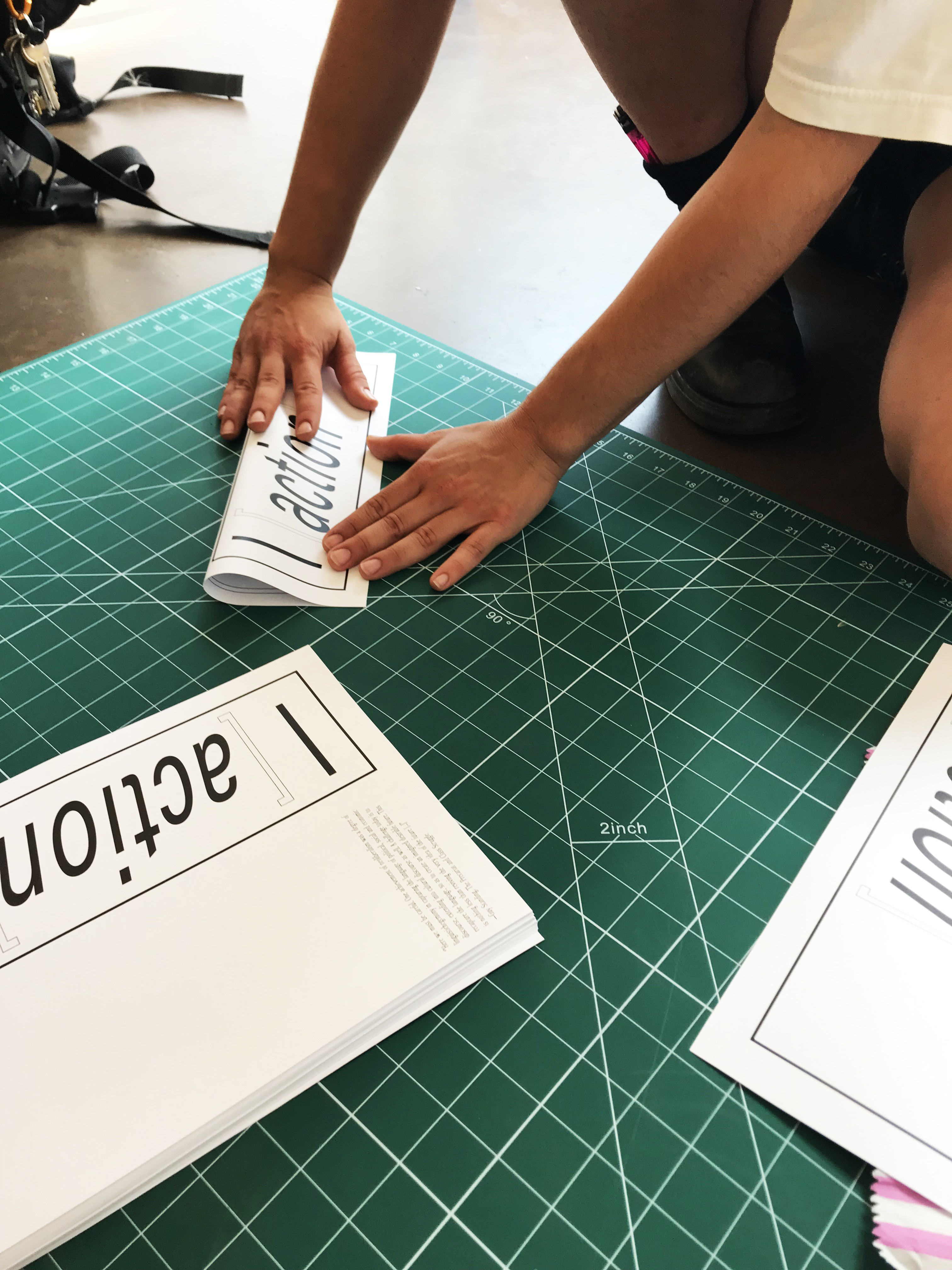 Eleni Papazoglou I (Action)-ing in prep for the SOS_19 Show at the South London Gallery. © School of Speculation, 2019.


Protest Tactics
Elsa Casanova

This project is an on-going body of research on different forms of action. There are infinite ways to collectively express disagreement: some are globally known but others are created for a specific context or situation (i.e. to adapt legislation). The objective of this project is to disseminate knowledge and make it available.

Analysing tactics and mapping them based on specific parameters, allows us to compare them easily. By collating this information we can learn what happened, the impact of it and create accessible tools to easily replicate old and discover new forms of protest.


Fahrenheit 0010101101 ...
Jay Parekh

'Reddit' is the largest anonymous forum on the internet. It has gained infamy as a point of organisation for the alt-right on pro-Trump 'subreddit', reddit.com/r/The_Donald, a community made of 800,000+ users. The forum plays an outsized role in shaping the tone and content of pro-Trump internet discourse and is a rallying point for violent and lethal protests such as Charlottesville.

Instead of banning the community, reddit chose to 'quarantine' it, hiding content from regularusers but allowing the community to exist. The 'quarantine' is still easily accessible, creating further toxicity and causing an increase, rather than decrease, in its user base.




Notes by Unknown Author
Lily McCraith

Notes by Unknown Author.
Written at the Arab & African Mining conference 2019.
Found on 2nd July 2019, Victoria Embankment.

A discarded pile of notes and a business card found on the street become the starting point for an investigation.

Deciphering the unknown author's handwriting reveals a hidden language of places, minerals, processes and strategy, specific to the mining industry. Layers of abstraction mask the reality of the geopolitics, ecological violence, and exploitation of workers who mine conflict minerals.


I (Action)
Eleni Papazoglou

How does terminology affect how we perceive ourselves as professionals?
This project focuses on terminology surrounding labour; treating language as
infrastructure which effects pay, legislation and self-perception.

Unpacking how vocational terminology is formed with regards to: 1.ownership
(ex. The proletariat), 2.skills (ex. Unskilled), 3.profession (ex. Engineer), and
conditions of labour (ex. The precariat), it aims to reclaim terminological
systems to promote self-identification. Responding to the shifting nature of the labour market, it proposes the linguistic separation of identity from profession, by action-based descriptions: ex. I engineer, rather than I am an engineer.


Queering the Data
Oliver Simpson

There is no hiding in the 21 st century. This project highlights the dangers online surveillance poses to the LGBTQ+ community. Authorities in Russia, Egypt, Israel and Iran use your Internet history, photos and biometric data to accurately predict your sexuality without your knowledge. As Yuval Noah Harari aptly wrote: "(in the future) People will not be able to escape persecution by retreating back into the closet, because new technologies are breaking it apart". This project maps out how the algorithms make these predictions in order to find ways to break the data chain, or, Queer the data, so that they no longer work.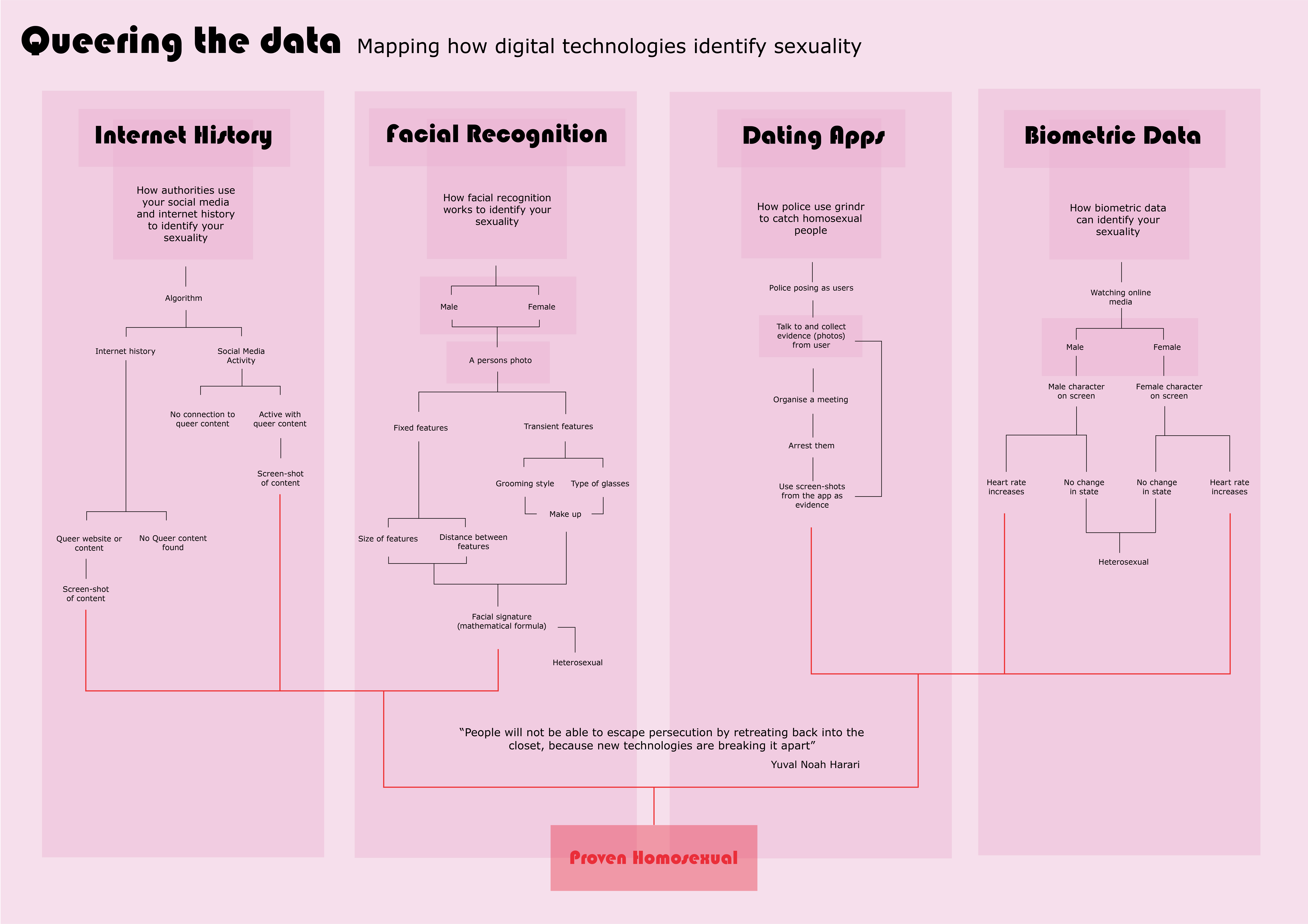 Casper Digital Suicide Support
Huidi Xiang

This project speculates a company which provides digital-suicide support services to people who choose to opt out the internet world. The speculation starts with the question: is it possible for individuals to withdraw from the internet today? The perpetual connectivity of the internet has entrapped us in a high-res panopticon. At the same time, due to the physical power structure that has been embedded in our digital world, we, as individuals, have limited access to even our personal data. The freedom offered by the internet has become the very antithesis of its own.


Only Nelson Nose
Lizzie Walkden

ONLY NELSON NOSE, is a mockery of Lord Nelson to create discussion of visibility, transparency and accountability in the public sphere.

We know, because we have been told, that Nelson was the fearless leader that earned Britain its dominance over Europe, but (nearly) only Nelson knows that he was a publicity hungry, murdering slavery supporting war criminal too.

ONLY NELSON NOSE strips Horatio of his treasured notoriety by taking the line of his profile, bending it around 90 degrees and extruding it to create nosing. This new nosing spans the full length of the steps that hold up Nelsons Column. Each time someone climbs, sits and steps on this nosing they will be sitting on his face, punching him in the nose and kicking him in the teeth.


Factories with Fences
Felix Taylor


The prison population of England & Wales has quadrupled since the beginning of the 21st century, with around half of this increase taking place since the 1990s. There have been successive recessions and tough austerity programs in conjunction with this dramatic rise, leaving precarious communities without stable income, and without social support. We see that our prison populations are disportionality made up of the most vulnerable and marginalised groups in our community; aka those whose access to income is already difficult. It is clear that crime, or the chance of being incarcerated is largely economically determined.


Post-Fordist Workout
Simo Tse

The boundaries between work and workout have been assimilated, fitness equals productivity. One could easily see the correlation between the patented work station at Amazon's warehouses, known as the 'Amazon Cage', with modular gym equipment.
The post-digital gym is 24/7, always open, always busy. Membership is everything but free. We're all linked by seamless routines; our constant typing, texting, swiping, clicking and tapping, are of service to the insomniac ridden, vampiric global capitalism. It is clear that we are losing our grip on our own motor functions and that our relationship with technology is singlehandedly being skewed by the dominating elites. Is the future of work going to leave us empty handed? Or more likely with tired hands?
The post-digital labour is as bodily and physical as any other kind of labour. The smooth and seemingly effortless process of e-commence and digital tools giving rise to a new breed of health and well-being concerns.




Star Shopping
Thea Christy-Parker

This is a speculation about a world in which high streets have been abandoned in favour of online shops, and then aggressively reinvigorated with physical versions of the same online shops.
Flaws in the system have been exploited by both individuals and companies who worked to influence the rating (and price) of products. There were huge amounts of wasted products as a result of this system. Following protests regarding their policies, Amazon has relaunched their selling platform, with more transparency on the origin, quality and environmental impact of the products on offer.





Google Plaque
Callum Abbott

In a race for cosmic data gathering, planetary colonisation and technological
prowess, space has become the newest frontier for companies to battle for
domination. Google, Tesla, Alibaba and Facebook have launched their own space
agencies, which compete to travel the furthest expanses of the intergalactic realm.
In response to NASA's past attempts to communicate with extra-terrestrials,
corporations look to communicate their unique view of the world to other potential life forms that may inhabit the universe. What will be the artefacts of this new space race, and what do they tell us about the future of a new society which is founded by values of corporations over nation-states?


Tourism of the Occupation
Tareq Tamini

Digital tourism is today dominating the market of tourism and as a consequence,
playing a major role in determining the way we experience regions around the globe. This year, platforms such as Airbnb and TripAdvisor, have been accused of profiting from "war crimes" by listing accommodations, activities and attractions in Israeli settlements in the Occupied Palestinian Territory. On January 2019, Amnesty
International called on these platforms "to stop providing these listings, and on
governments around the world to take regulatory action to prevent companies such as these from doing business in or with Israel's illegal settlements".
Currently, one of the most visited places in the West Bank is Kfar Adumim, a settlement 10km east of Jerusalem, situated next to Palestinian Bedouin village of Khan Al-Ahmar, which since the expansion of the settlement have been under threat of imminent demolishment. This investigation is attempting to highlight the supporting role of tourism platforms in normalizing and obscuring the increasing human right violationstowards Bedouin communities.


GO: Bank Tube Station 2020
Christian Opdal

We use our phones on an everyday basis. On them are an increasing amount of
applications for everything. We can be occupied by our phones for hours, but yet the device is not only time-consuming and entertaining. Applications like City mapper and Google Maps make us move from A to B in the fastest way possible, making the device a practical and time-efficient tool.
With the increasing development of augmented reality, a technology which trended
through Pokemon GO in 2016, we see a new way of using our phone. Instead of us
telling the phone where to go, Pokemon GO allows the phone to command our
footpaths, through the game's specific locations of interest.
This illustration of Bank tube-station advances the current use of our mobile devices and presents a vision of its future use. Within this scenario, an even more path-efficient, ultra-monetizing and movement-regulating vices govern you.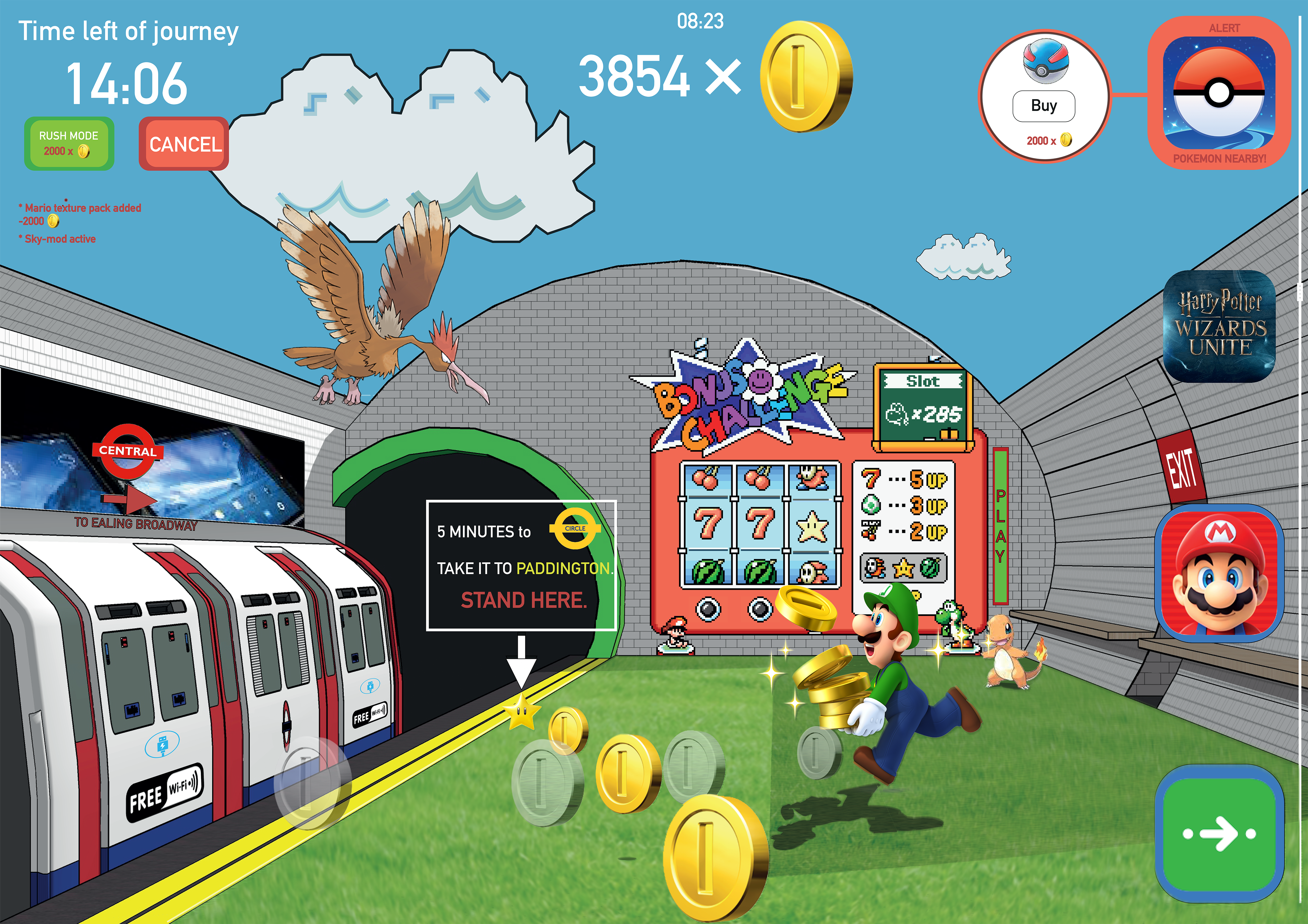 Sugar Baby Starter Pack
Karolina Krupickova

This project flips the power dynamic through breaking the stigma surrounding 'Sugar Babying'. Is there equality in relationships and how can we challenge it through our behaviour in these roles? Nearly 500,000 students in the UK are struggling to pay for their education and seeking wealthy benefactors to help offset the costs. Do we victimize them for being Sugar Babies? Is our default perspective patriarchal? Are we aware of the rules of hegemonic masculinity and the lack of feminist discourse in our society?
I utilised the platform, SeekingArrangements.com for performative research and was able to analyse and discover patterns to describe the social roles enacted. This research resulted in a scripted performance, proposing participatory interaction between characters such as the Sugar Baby Boy / Girl, Sugar Mummy / Daddy; negotiating the conditions of their arrangement


Internet(s)
Kostek Konopinski

"INTERNET(S)" speculates the longterm consequences of the filter bubble. Predicting the end of internet as a single entity and creation of separate digital ecosystems. Each internet appeals to a different consumer group and reflects existing economic division. Every router grants access to a separate internet web.


TYST
Juli Sikorska

Like second-hand smoke, second-hand noise is a pollutant imposed on us against our consent, and at times, places, and volumes over which we have no control. Environmental noise pollution is a threat to health and well-being, and long-term exposure can cause hearing impairment, disrupted sleep, impaired task performance, negative social behavior and annoyance reactions, disturbances in mental health, and cardiovascular disturbances.
In London alone, more than 1.6 million people are exposed to road traffic noise levels during the day above 55 dB, the level defined by the WHO as causing health problems (the volume of a dishwasher). With the planned expansion of the 3rd runway at Heathrow, an additional 2.2-3 million Londoners would be at risk of severe exposure.
Reducing noise may provide a significant benefit towards reducing the health related costs of road traffic noise in a community. But how will we deal with sustained growth in highway, rail, and air traffic? Do we find remedies for noise, or stop it at its source?





Smart Borders
Henry Valori

"They don't build walls because they hate the people on the outside, but because
they love the people on the inside."
- President Trump. Jan. 8th address to the nation on border security
Smart Borders appropriates the technology of border security at the scale of the home.
Through replacing the front door with transparent methods of border surveillance,
this project amplifies the absurd surrender of privacy common to increasingly
detailed security checks, and predicts a translucent future of home security
neurosis.




Raise the Bar
Ananya Patel

Alcohol prohibition has been in effect in parts of India since its independence in 1948. The law has colonial roots, when alcohol was heavily taxed by the British and Gandhi encouraged nonconsumption as a form of protest. Today, it is often used as a political tool that fuels corruption and sustains underground markets and unsafe production. Adding to the hypocritical and paradoxical nature of the law and its enforcement, some prohibitionists continue to leverage Gandhi's ideologies to justify its relevance today.
This project subverts this by imagining a Malt March – a fictional demonstration against the hypocrisy of the prohibition law. Referencing Gandhi's 1930 Salt March, the idea for a Malt March was conceived by anti-prohibition activists years ago, but never garnered enough support to actually take place.
These images describe the final part of the March, set in a particular distillery that operated pre-prohibition. It has been created using a pastiche of visual material from Gandhi's Salt March, photos from when the distillery was in operation, and images of the site today to build a narrative about social reform, grassroots protest, and civil disobedience.
2029: The Library, Shakera Rahman


Humanoid Semiotics
Lauryn Siegel
The massive rise in access to 3D technology has impacted both commercial and creative culture immeasurably over the past decade. What started mainly in the
architecture, gaming and high-level animation world has trickled down via computing power such that anyone with a decent machine can participate in our collective
fascination with the "uncanny valley." Nowhere is this more true than in our ability to represent, amend and animate representations on the body. But the visual identities that occupy this space are still subject to the idealized male gaze of those who create most of these softwares.
This project, Inspired by Hal Fisher's "Gay Semiotics" work, takes into consideration the "default" characters, many of which are served up for free in software packages and on the myriad 3D model sites. If you search for "woman" you routinely have options that are clearly the result of male fantasy rather than actual women. This is simultaneouslyexciting and disturbing.

AirBNB World
Ruby Doherty